Step 1: Proof of Loss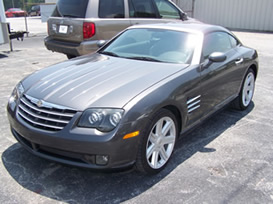 The 1st step in the diminished value claim process is to be able to prove your loss. This can only be done by hiring a diminished value expert such as Collision Claim Associates. The determination of the amount of value a vehicle has lost can only be assessed by an experienced appraiser knowledgeable in collision damage analysis, vehicle markets and what happens to vehicles with a damage history in those markets. Only an independent, unbiased appraisal will provide the necessary documentation to determine the diminished value of your car, light truck or SUV. Click here for Our Qualifications
Step 2: Submission of your claim to the responsible party
Once you have established the amount of your vehicle's diminished value and have your proof of loss, you need to submit that proof with a formal demand for payment letter. Your demand letter along with your proof of loss documents should be sent to the responsible party by certified mail/return receipt requested. This will provide you with proof that you sent it and will also provide proof that they received it when you receive the delivery receipt with their signature.
Step 3: Settlement of Your Claim
Once you have submitted your demand letter along with your proof of loss by certified mail/return receipt requested, you will then wait for a reply. The reply will be either payment in full, or they will try to negotiate down the amount of your demand. There are many tactics used to do this including to try to refute your documentation, to offer some other evidence that the loss is much lower than your demand, to hire their own "independent appraiser", and in some cases they may even deny your claim outright stating they do not owe for diminished value since the vehicle was repaired properly. The key is being properly prepared to respond to any or all of these situations. In the end, if a reasonable settlement can not be reached, your final recourse would be to file a law suit against the responsible party, however this rarely occurs.
Collision Claim Associates, Inc. has assisted thousands of vehicle owners through this process. We've heard the excuses, the attempts to minimize, and the attempts to try to get you to go away with little or nothing at all. With our assistance you can be successful in collecting your vehicle's diminished value.
To get Started, select from the links below
How may we assist you?
---
DV Qualification Quiz
Take our short diminished value qualification quiz to see if your situation qualifies you to make a diminished value claim.
Free DV Claim Review
This is where it starts. Our free diminished value claim review will give you the answers you need to make educated decisions.
Claim Consultation
Need some advice? Our auto claim experts can cut through the bull and provide you with straight answers and sound advice.